Dent Masters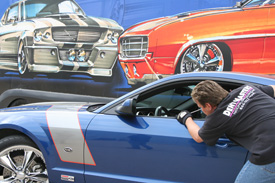 Dent Masters has been the premiere specialist for automobile Paintless Dent Repair and Hail Damage Repair for the past 18 years.

The purchasing a new vehichle can be one of our greatest pleasures in life. Unfortunately, however, our patience is tested when your perfect vehicle suffers its first ding or dent. Itís not unusual for drivers to get upset when this happens, dreading a trip to the local body shop assuming nothing less than a full panel replacement can ever return your vehicle to its original showroom condition. In fact, there is an easier way.

Dent Masters utilizing Paintless dent repair is a relatively new but specialized procedure designed mainly for late model cars and trucks, but it's a process that has undergone considerable improvements since it went mainstream in the early 1990. What started out as a crude way of reshaping the metal prior to refinishing it as part of the conventional method began on the assembly line in the automobile factory as minor dents and dings would occur during the assembly process. Today paintless dent repair has today become a world wide industry, saving drivers all around the world millions of dollars a year.

Simply stated, Dent Masters performing paintless dent removal or PDR is the process of repairing dings or dents, generally the size of a silver dollar or smaller, by massaging and finessing the metal from the back side. With proper tools and training, the technician can gain access and repair damage on most fenders, doors and quarter panels, regardless of internal bracing. Horizontal surfaces such as hoods, tops and trunk decks are usually more easily accessed and repaired.

As mentioned before, the tools used are a series of specially designed rods in various lengths, shapes and with different tips. The dents are usually accessed utilizing the normal openings in the vehicle body. Dent removal repairs can be completed in as little as five minutes on something very minor up to 5 days for extreme cases of hail damage, depending on the skill of the technician and location of the damage.

Be cautious. Paintless Dent Removal is not like the body-shop technique of prying the dent out using body-pick techniques, spreading it with bondo over the damage and refinishing it. It is a skilled manipulation and massaging of the metal by a technician with the skills and touch of a fine artist.

You can usually achieve 95 to 100% perfect repair if you deal with a highly skilled technician that has been properly trained with years of experience. Dent Masters has been in business for 18 years with an outstanding reputation and commitment to perfection. We repair all makes and models, domestic and foreign, with 100% customer satisfaction being our primary goal. Quality has always been our main priority since day one, we firmly believe if you cant do something right the first time donít do it at all and at Dent Masters we do it right, the first time!

We look forward to the opportunity to earn your business!